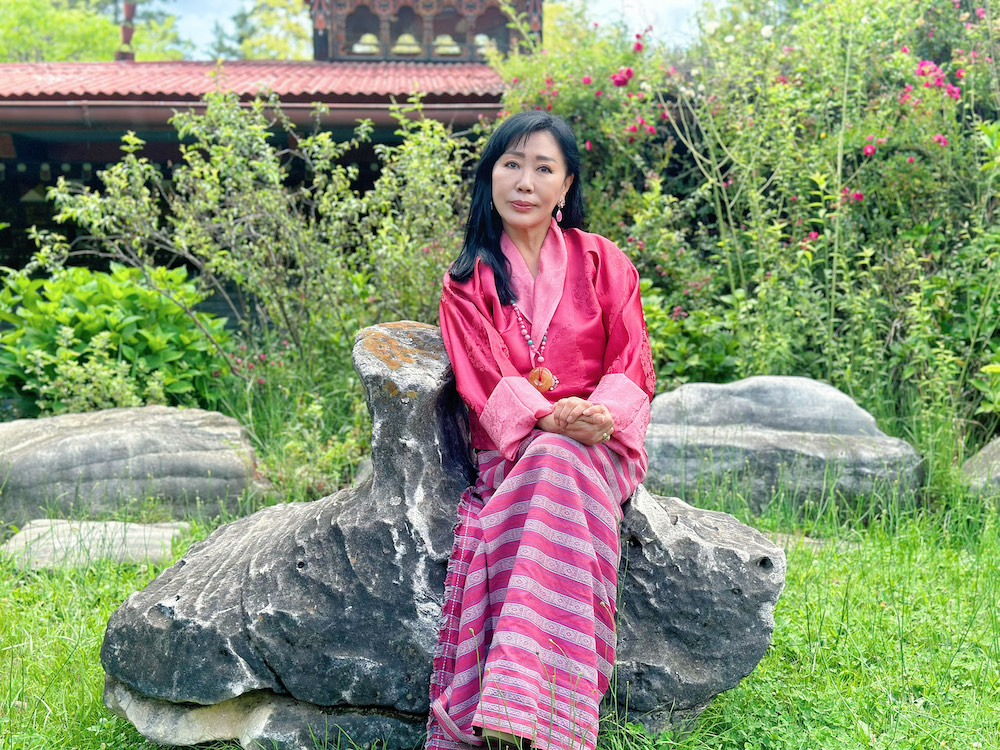 Royal Patron
Her Majesty the Queen Mother of Bhutan
Gyalyum Ashi Dorji Wangmo Wangchuck
Her Majesty the Queen Mother of Bhutan, Gyalyum Ashi Dorji Wangmo Wangchuck is the Chief Patron of Drukyul's Literature Festival: Bhutan Echoes. Every year, select renowned authors, accomplished poets, thought leaders and change makers are invited to come together to celebrate literature, art, stories and ideas in Bhutan. For over a decade, The Bhutan Echoes Festival has been an inclusive space for diverse ideas from around the world.
Her Majesty is not only an accomplished author but also a keen supporter of literature, particularly among the youth. She has sponsored and edited a number of books on poetry and essays on issues of relevance to the country. She is the author of "of Rainbows and Clouds" a story of Yab Ugen Dorji (His Majesty The King's maternal Grandfather), which is not only a gripping family saga, but an illuminating window on Bhutanese culture, society and history. Her Majesty's second book "Treasures of the Thunder Dragon – A Portrait of Bhutan" is a blend of personal memoir, history, folklore and travelogue. Her Majesty's third book "Dochula: A Spiritual Abode" – documents the Druk Wangyal Complex at Dochula and the creation of the Dochula Tshechu in gratitude to His Majesty the Great Fourth and the Bhutanese Armed Forces for safeguarding the Sovereignty of the country in 2003.
Her Majesty has initiated numerous programmes to improve the quality of life of the Bhutanese people especially in the rural areas through the creation of the Tarayana Foundation. The Foundation seeks to help those experiencing financial difficulties through housing schemes, scholarships, training, production and marketing of rural products and financial support. In consultation with the community members, Tarayana has identified several projects including cultivation of medicinal, aromatic and dye plants like mountain indigo, turmeric and ginger to increase cash income. Currently Tarayana works in nearly 500 of the remotest villages of Bhutan.
Her Majesty is the Founder and Patron of the Folk Heritage Museum in the capital, Thimphu. The museum showcases traditional folk knowledge, crafts and way of life and has become a popular site for local and foreign visitors. The Druk Wangyel Chortens in Dochula, which consists of 108 stupas and a temple was conceived and constructed by Her Majesty. Her Majesty commissioned the construction of the Lungchutse Chorten, and rebuilding of the Lungchutse monastery. The resoundingly successful Smithsonian Folk Life Festival of Bhutan in Washington DC in 2008 was organized under the guidance and patronage of Her Majesty.
Her Majesty is the Honorary President of Sherubtse College, Bhutan's oldest and most respected institution of higher learning and she takes a keen interest in youth and gender issues.
Her Majesty Gyalyum Dorji Wangmo Wangchuck is the eldest Queen of His Majesty Jigme Singye Wangchuck, the Fourth King of Bhutan. Her Majesty is the mother of HRH Princess Sonam Dechan Wangchuck and HRH Prince Jigyel Ugyen Wangchuck.