After deferring for the last two years due to COVID-19, Bhutan Echoes' First Drukyul's Literary Festival was virtually launched today, 22nd April 2022 on the theme Stories and Ideas for a Changing World.
What is Bhutan Echoes?
Bhutan Echoes is a not-for-profit organization that coordinates and produces events to promote literature, culture, and art in Bhutan, culminating in 'Drukyul's Literature Festival,' an annual international literary festival held in Bhutan. A year-round initiative of Drukyul's Literature Festival, it nurtures a literary culture in Bhutan through a range of digital and in-person programs and projects. Her Majesty the Queen Mother of Bhutan, Gyalyum Ashi Dorji Wangmo Wangchuck is the Chief Patron of Bhutan Echoes: Drukyul's Literature Festival.
Bhutan Echoes evolved from Mountain Echoes with a new chapter when His Majesty the King renamed it "Drukyul's Literature Festival" in 2020 to promote local engagement. This year's festival is the first helmed by an all-Bhutanese team and is a hybrid of online and in-person events from 22nd to 25th of April.
Launch of Drukyul's Literary Festival 2022
After a traditional welcome dance by the Royal Academy of Performing Arts (RAPA), Her Majesty Gyalyum Ashi Dorji Wangmo Wangchuck launched the festival with a virtual curtain lift at 10AM.
The festival producer gave a festival overview note in which she talked about this year's direction to go digital under the gracious guidance of Her Majesty the Queen Mother Ashi Dorji Wangmo Wangchuck. Her Majesty offered the audiences a diverse mix of prerecorded sessions and three in-person workshops on the grounds.
Touching on the theme and sessions of the very first Drukyul's Literature Festival, Kitso Pelmo Wangdi, the festival producer said,
"…We decided on the theme: stories and ideas for a changing world – as we want to remember powerful stories that matter to us. This year's sessions will celebrate and discuss progressive changes in Bhutan and around the world. These changes include sociocultural, environmental, technological, and economic discussions. The sessions will encourage audiences to examine the changes we have had to make and adapt to in the last two years, the actions we took, and the choices we made as individuals and as a global community within our societies and environments. I hope the thought-provoking line-up of programs will spark conversations and discussions that continue beyond the Festival."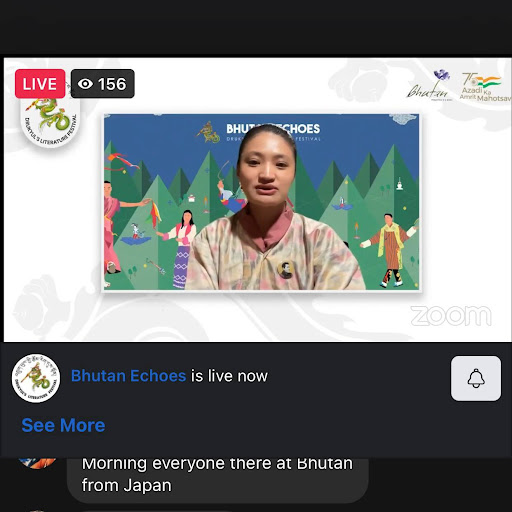 Festival Producer Keynote
During the welcome address, the festival director Kelly Dorji said, "As children, we inhabit stories through pretend play and make-believe. Although we may grow up, we never stop pretending. We just change how we do it. Storytelling is at the heart of who we are as humans… In the narration of any individual story, we see the human experience.
Significance of the Bhutan Echoes name
Resonance with the story of another prompts us to recognize their voice, value, and humanity. As named by His Majesty, Bhutan Echoes resonates and reverberates our stories, far into the distance, and returns, again and again, in wave after wave until we are awash with wonder and awe…. I alter the words of Hermann Hesse from Siddhartha and say unto you all "Not just in his speech, not just in his thoughts, I see his greatness, also in his actions, in his life." Long Live Their Majesties.
Welcome to Bhutan Echoes 2022!"
Her Majesty Gyalyum Ashi Dorji Wangmo Wangchuck then graced the screen to address the audience. Her Majesty touched on the evolution of Mountain Echoes to Bhutan Echoes and expressed her admiration for the talent and spirit of the younger generation, evident in the line-up of the young speakers at the festival. Her Majesty said that seeing what the Bhutanese youth are capable of, gives her hope and confidence that Bhutan will indeed excel beautifully.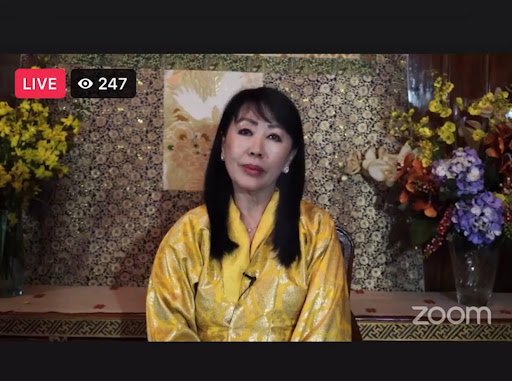 Her Majesty Gyalyum Dorji Wangmo Wangchuck's Address
"… Mountain Echoes will always have a very special place in my heart. I have many beautiful memories and experiences gathered over the years of Mountain Echoes and have made many good friends. The experience and training gained during these years have led us to where we are today with our very own – Bhutan Echoes Drukyul's Literature Festival…
This is the beginning of a long and beautiful journey for us in celebration of literature, arts, creativity and talents. I hope to see each edition of Bhutan Echoes being better and more inspiring than the last. It's my dream to see Bhutan Echoes inspire young Bhutanese to realize their aspirations. So let us together embark on this exciting journey and create memories that will be long cherished…
I wish Drukyul's Literature Festival great success as we come to you virtually today and throughout the year. Tashi Delek and thank you," Her Majesty Gyalyum Ashi Dorji Wangmo Wangchuck.
Programme line-up for Drukyul's Literary Festival 2022
The first event began with The Stories behind the Vault of the Vishnu, where Her Majesty engaged in conversation with author, Ashwin Sanghi. A whole slew of fantastic sessions followed: Women in Buddhist Traditions with Venerable Karma Lekshe Tsomo and Aum Pek Dorji, to Preserving the Myths of Manipuri, and a children's special session – Bumchu in the Moon – a creative illustration of folktale storytelling with 8-year-old karma Sonam Demath.
Speakers included Her Excellency Ambassador Ruchira Kamboj, Author Namita Gokhale and Aum Kunzang Choden and Businessman Binod K Chaudhary, Booker Prize-nominated author Avni Doshi, Award-winning journalist Megan Stack, Legendary actor Kabir Bedi and many more great speakers.
There were also dance performances by the talented GOKAB crew, debut writing conversations and poetry recitation in the second half of the first day.
Interesting sessions such as Mita Kapur and Tshering Choden's on the F Word to listen to their food stories, a journey through poet Jhilam Chattaraj's writing process. Seasoned writers and editors also provided insights into the writing, editing and publishing, a few sessions with live Q&A with the speakers, and several sessions featured in Dzongkha with English subtitles were promised programs in the upcoming days of the festival.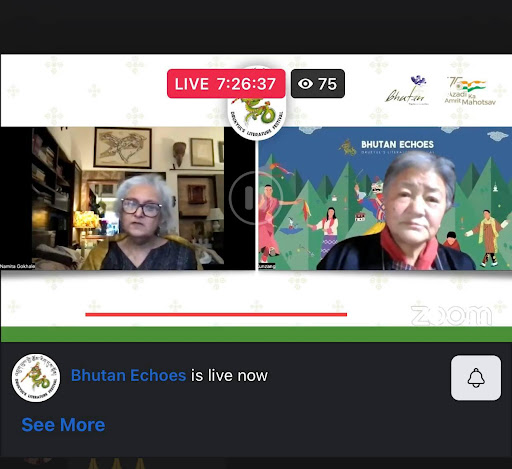 Namita Gokhle in conversation withKuenzang Choden
You can view the 4-day live event online on Bhutan Echoes Facebook Page until the 25th April. The sessions shall also be available for viewing on YouTube after the festivals.